---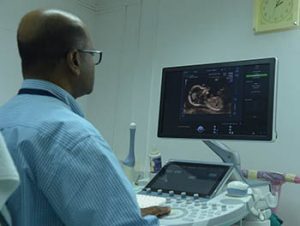 SRADHA Project – Foetal Medicine Clinic
As part of the Reduction of childhood disability initiatives of CDC a project titled "SRADHA project was started during the year 2020. Dr.Pio James, Assistant Professor, Obstetrics & Gynecology, Govt.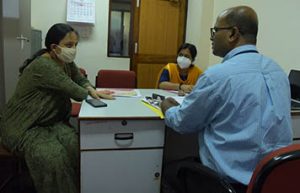 Medical College, Ernakulam is the consultant of the clinic.
The "Sradha project" aims at reduction of childhood disability through various antenatal intervention including anomaly scanning using the 4D Ultrasonography machine and advanced equipments available at Genetic & Metabolic unit of CDC.
The major services offered are First trimester scan (11-14 weeks), Early Anomaly Scan – 16 weeks), Target Anomaly Scan (18 to 27 weeks), Target Anomaly scan with fetal ECHO, Growth scan with fetal Doppler Objectives
• Early detection of foeto- maternal problems and timely intervention
• To train Post Graduate Doctors and Consultants
• To establish a full- fledged state-of-the-art dedicated Maternal Foetal Medicine unit
Neurosonogram
Objective: To do neurosonogram as a routine to all children attending New born follow up clinic I.
Clinic set up: The clinic is held on all Tuesdays from 9.00 am to 1.00 pm except on public holidays.
Services offered
• Neurosonogram for babies attending new born follow up clinic I Follow up scans in new borns with positive findings like PVE to detect progression to periventricular leucencies or cystic PVL.
• Neurosonogram in newborn with head circumference more as per Dyne's formula
• Neurosonogram in 0-1 year old infants with developmental delay with adequate A7 size
•Category of patients – all new borns in Newborn follow up I and referred cases from DEC I, who are less than 1 year with wide A7 and increased head circumference